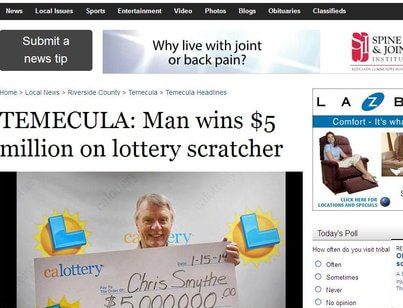 A long-time lottery player who had never won more than $1,000 previously hit the big time with a scratcher ticket which won $5 million.  James Smythe, who bought and scratched the ticket on Wednesday, went directly to the lottery offices and cashed in his ticket within 3 hours of discovery.
He had only been passing through a store to get some coffee when he decided to buy the $20 ticket.  The Temecula resident managed to beat odds of one in 2.4 million to hit the top prize. Now he is not even sure what he wants to do with all the money coming his way.
The 7-Eleven store on Murrieta Hot Springs Road in Murrieta will receive a $25,000 bonus for selling the lucky ticket.
Read more in http://www.pe.com/local-news/riverside-county/temecula/temecula-headlines-index/20140119-temecula-man-wins-5-million-on-lottery-scratcher.ece