A new game has been announced by the UK lottery. Sale of tickets for 'Set For Life' will start on 15th March 2019, with the first draw to be held on Monday 18th March 2019.
Set For Life is a very different game for the UK, and finally bucks the trend of pursuing ever more rollovers and larger jackpots. Which appears to have done nothing but harm ticket sales of the UK Lotto and EuroMillions.
Players are tired of jumbo jackpots and nobody winning for months on end. This new game could be your answer to rollover exhaustion.
Set For Life offers a much more modest £10,000 per month for 30 years. This still amounts to a substantial jackpot of £3.6 Million in total – but there is no option to receive it as a lump sum.
The game itself will be drawn twice a week on a Monday and Thursday. With the draw comprising a 5 balls from 47 numbers game, with an additional 'Life Ball' numbered 1 to 10 also drawn. Players must match all 5 main balls plus the Life Ball to win £10,000 per month. Tickets will be priced at just £1.50 making it cheaper to play than the main Lotto game which was very controversially changed to £2 a play.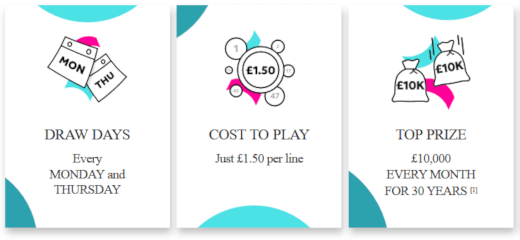 Also interesting to note is that as this is not a traditional jackpot game, there is no shared jackpot prize. Each person who matches all the balls will win £10,000 per month each. This is subject to a prize capping rule (yet to be revealed) which should rarely, if ever, be required that will prevent the company losing money if hundreds or even thousands of people all won the jackpot in the same draw.
It's a very rare event for the UK to add a new lottery game to their line up, and this does appear to be an exciting and well thought out addition. It may just prove to be the game that saves Camelot from being ousted as the official operator of the UK's National Lottery.
More details about the game can be found on the official UK National Lottery site here: https://www.national-lottery.co.uk/set-for-life