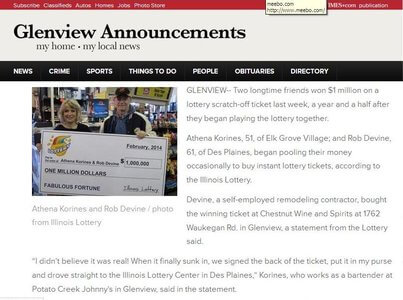 Two friends pooled their money to buy tickets and won a million dollar payout from a lottery scratch-off game.  Bartender Athena Korines and self-employed remodeling contractor Rob Devine had only been placing lottery bets together for a short while when they hit the big jackpot.
It was Devine who purchased the winning ticket from the Chestnut Wine and Spirits at 1762 Waukegan Road in Glenview.  The two friends immediately signed the back of their ticket as soon as they realized its value, then took it to the Illinois Lottery Center in Des Plaines.
Chestnut Wine and Spirits will receive a bonus equivalent to 1% of the jackpot ($10,000).
Read more in http://glenview.suntimes.com/news/lottery-WIR-02062014:article#