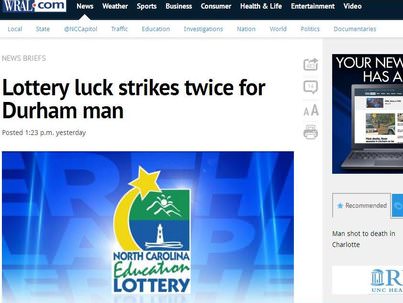 A small business owner in North Carolina has joined a very elite club – those who have won significant amounts in lotteries more than once.  While a big jackpot for many of us remain a dream, Keith McClintock of Durham has just landed a million dollar jackpot from a $10 Holiday Gold ticket.  It is his second big jackpot.
His first win was via a $5 Aces High ticket back in April 2012.  That one was worth $150,000.
He chose to receive a single lump sum of $415,203 net of taxes.  Though he was initially stunned by his win, he has definite plans for the money from his second win – he wants to get his kitchen remodeled.
He will continue playing the lottery, hoping for a third win.
Read more in http://www.wral.com/lottery-luck-strikes-twice-for-durham-man/13322529/