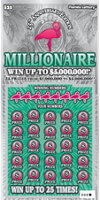 Their most expensive lottery ticket ever has just gone on sale in Florida.
To celebrate their upcoming 25th anniversary, the Fla Lottery launched a $25 scratch-off ticket on Tuesday called 'Millionaire'.
That may sound expensive. But with 25 prizes in the $1M to $5M range and a vast number of smaller prizes, it's still likely to prove popular despite the price.
Florida will also run a second chance drawing for all those losing tickets too, where 5 people will be invited to a 25th anniversary event where one of them will win $1M live on stage. The runners-up will still go home with $250,000 though.
Would you risk $25 on a single scratcher? What's the most expensive ticket you've ever bought?