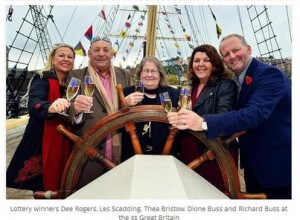 Les Scadding was always convinced he would win the lottery one day.  The bad times he went through, including a divorce and losing his job never caused his belief to waver.  In fact he always kept a set of numbers with him, for when he placed his entries.
But on the day fate decided to smile on him, Les could not find the paper he jotted his numbers on, so he had to settle for two lucky dip tickets.  That was enough for him to land a huge £45 million win on the Euromillions.
He soon learned that winning has its downsides, as he was swamped with public requests for help.  He had to live in a hotel, then to a new upgraded home he had bought for £1.3 million.
Now he is busy enjoying life in a way only an affluent person can.  He has a new mansion, has been traveling and has bought quite a few high-end cars.  He is now Chairman of Newport County AFC.
Read more in http://www.bristolpost.co.uk/Lottery-ve-things-dreamed/story-23828661-detail/story.html