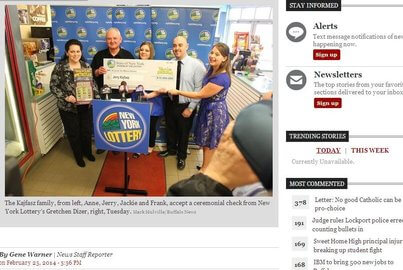 What happens when a man rejects a $10 million winning ticket?  In the case of Lancaster man Jerry Kajfas, he went back for the $20 Win for Life Spectacular ticket and promptly scratched his way to a $10,000 a week for life stipend.
At the Depew One Stop on Broadway, where he buys cigars and his favorite instant lottery tickets, the clerk accidentally handed Jerry an extra $20 instant ticket.  Jerry returned the ticket and went outside to scratch the other tickets he had bought.  But when he won small amounts 7 times in a row, he decided to ride his lucky streak.  He went back to the store and asked for the same ticket he had earlier returned, and won big time.
Jerry had the ticket registered in his son's name and has said he  and his wife will take 86% of the winnings.  The couple will net $300,000 per year after taxes, for the next nineteen years.  Their two children will each get a 7% share.
Read more in http://www.buffalonews.com/city-region/lottery/mistake-leads-lancaster-man-to-splurge-on-lottery-ticket-worth-10-million-20140225