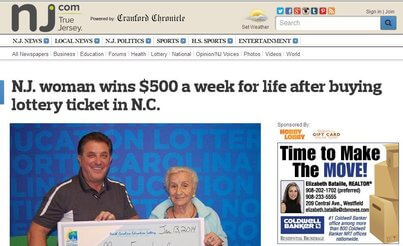 Mary Eisenband, from New Jersey, buys lottery tickets wherever she goes.  And on a trip to Georgia to visit relatives, she decided to buy a ticket at Pilot Travel Center on state route 48 in Pleasant Hill, N.C, just off Interstate 95.  That became the best decision she made on that trip, as she won the top prize for "$500 a Week for Life" game of the North Carolina Lottery.
Given a choice between $500 a week for life and a one time payment, she agreed to take a lump sum of $244,968 net of state and federal taxes. Eisenband, a Polish emigrant, said it was the most money she's ever had.
She want to use her winnings to vacation in Florida.  She also wants to help family and keep whatever is left in the bank.
Read more in http://www.nj.com/union/index.ssf/2014/01/nj_woman_wins_500_for_life_after_buying_lottery_ticket_in_nc.html