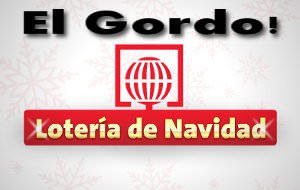 I love the Christmas El Gordo draw. Not because it's the best lottery game in the world, but because it's probably the most insane game in the world 🙂
But unfortunately if you live in the US it's difficult to find anywhere you can get tickets.
(I have just managed to find one good option for you for this year though – so see below).
The jackpot pool is measured in billions, and you get hundreds of top prizes rather than just the one.
And the actual draw process itself is unlike anything else in the world! Just watch the brief video of it here. Nothing like it!
I treat myself to a ticket every year to join in the fun. It's a Christmas present to me from the dog 😉
Playing From The USA
After much researching, I have managed to find a decent option for US players.
If you get a ticket from here, you'll get a reasonable price on a 'decimo' ticket.
Now it's not a syndicate option, but you do own 100% of that ticket and all winnings that come from it. You can also choose from a small selection of different ticket numbers (El Gordo tickets come pre-printed with numbers, so once the numbers sell out, that's it, they're gone).
Ticket prices online vary so much for El Gordo – it's not unusual to see 3-5 times the normal ticket price! The place I found is a lot cheaper than that, and has been running since 2002.
You also have to be careful when you buy online that you're getting tickets for right game!
Because most people outside of Spain refer to the special Christmas draw as simply 'El Gordo' (which means 'the fat one'!). But this particular El Gordo draw is actually called 'Loteria de Navidad'.
So  be careful to double check that the ticket is actually for the draw on 22nd December and not earlier!
Good luck.