Richard & Angela Maxwell:  April Fools Day Winners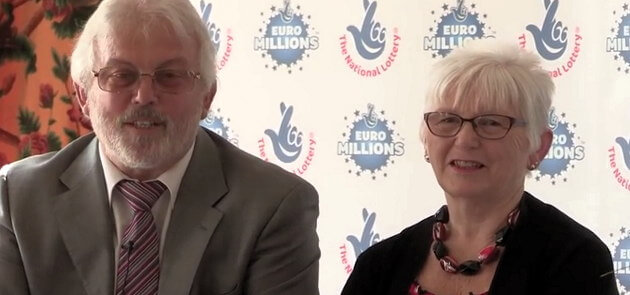 It was while he was supervising workers building an extension on his garage on April Fool's day when Richard Maxwell decided to take a break. The semi retired consultant in the poultry industry took his lottery ticket from the kitchen drawer. When he looked at the main numbers, he was rather pleased to discover that they matched those drawn.
Since it was April Fool's Day, Maxwell at first suspected that someone had scammed his ticket to play a prank on him. When he discovered that he had won a huge £53,193,914 jackpot on the EuroMillions lottery he was stunned.
There were builders milling about and his wife was out cooking lunch for an OAP luncheon club so he had to keep his emotions in check. Maxwell carried on as if nothing happened; he even prepared tea for the builders. And when his wife Angela came back home four hours later, even she initially thought it was a prank from her husband who was a bit of a joker.
But the win was real! Richard and Angela Maxwell, both 67, have received an enormous April 1st windfall.
Who Are The Maxwells?
The winners live in Lincolnshire and have two daughters, Sharon 45 and Paula 44. They worship regularly at the UMC Coningsby Methodist Church chapel in Silver Street. At age 67 Mr. Maxwell is a semi-retired poultry consultant, who has survived a brush with prostate cancer three years ago. They have lived to the Lincolnshire area in 2004. Richard has been a Boston United supporter since 1958. Neighbours describe the Maxwells as very modest people who spend a lot of time on charity work.
Mr. Maxwell is an active member of the Woodhall Spa Rotary club, and Mrs Maxwell is a member of the Woodhall Spa Inner Wheel volunteers. They are apparently very helpful people being involved in fund raising for good causes through their church and community organizations. Angela Maxwell works as a volunteer at an OAP luncheon club and Richard does some voluntary youth work with the Barnes Wallis Academy in Tatershall.
The Maxwells are held in high regard in their community. Friends and acquaintances have declared that the win could not have happened to better people. One friend says that the Maxwells have "always been popular because they'll help anybody who is stuck". And one neighbour says that she'll be sad the day they have to move, because she says that their current home may not be that secure for the amount of money they now have.
And since their big win, the couple have landed tenth in the National Lottery Rich List.
What the Future Holds
Though they are understandably over the moon with their big win, they have not made major plans on how to use their prize money yet. All they know is that family will be high on their priority list.
Richard plans to buy a range rover, so he'll have to ensure it would fit into his extended garage. They want to upgrade plans to visit New Zealand to include the whole family and going by first class. Richard wants to follow more sporting events all over the world while his wife shops.
There is nothing clear yet about how they want to use the bulk of their winnings. But if they remain true to form, the charities in their area are likely to receive a share. The Maxwells' win is likely to benefit a lot of people, and that is no joke.
What would you do with a win this big? Want to wish the Maxwells all the best? Just add a comment below.