The biggest lottery news of the year is about the largest Powerball jackpot ever won. The jackpot had built up over nineteen consecutive draws without any big jackpot winner. By 13 January, the jackpot had grown to $1.586 billion – almost three times the previous record! After the draw the lottery revealed that there were three winning tickets sold: one in California, one in Florida and another in Tennessee. The enormity of the jackpot amount ensured that each ticket holder wins in excess of $500 million even if it is split three ways!
At this time only the winners from Tennessee have come forward, and they have been identified as John and Lisa Robinson. Let's hope at least one of those other tickets goes to a good sized Powerball syndicate.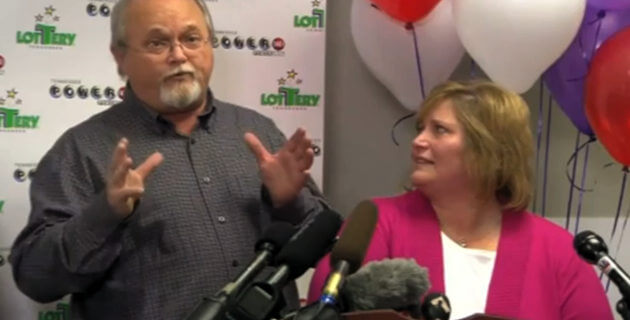 Some Background Information On The Robinsons
It seems like the Robinsons of Tennessee used to be your normal everyday folks before the win. They had mortgages to pay and their children have college loans outstanding. They live in a small grey one-story house in Munford, which is a suburb of Memphis.
Neighbours describe the Robinsons as fine, dependable and hard working. It is also said that they are civic-minded working class people. They were not well-off, so whenever daughter Tiffany asked for a horse, John's answer has always been "when I win the lottery."
Just like millions of other lottery players they dreamed of winning a lottery jackpot. All they wanted was to win "a small piece of the big pie" according to Robinson himself.
The Big Win
The Robinsons had bought entries for the January 13th draw of the Powerball Lottery from Naifeh's grocery store. Such was the excitement about the huge jackpot that Lisa stayed up to watch the draw live on television. She carefully wrote each number down as it was drawn. After the last one was drawn, she was shocked to find they had matched all numbers including the powerball – what she had no way of knowing is how many other tickets had posted a match like theirs.
Her hollering soon got her husband to check their tickets. He did that four times but was not yet satisfied – he wanted to wait for news that a winning ticket had been sold in their area before believing the extremely good turn in their financial fortune. But just to be safe John asked his brother for help acquiring the services of lawyers and financial planners.
After the lottery revealed the areas where three winning tickets had been sold, and at the advice of their lawyer, they contacted the Today show and went in for an interview Friday morning. By Friday evening they were at the lottery headquarters in Tennessee making their claim.
The Robinsons chose to receive their prize in a single payment that gives them about $328 million in a single payment rather than the full amount through 30 annual instalments. That should give them about $187.2 million net of taxes.
How They Plan To Spend Their Fortune
Surprisingly, the Robinsons seem to be very well-grounded and don't plan on making significant life changes. They don't even want to move out of their small house into a bigger one – they say a bigger house will be harder to keep clean. They even intend to keep busy working just because they cannot imagine being idle.
There will be a few purchases though. Their daughter Tiffany wants a house and, now that John has won the lottery, there is no reason she cannot have that horse. They plan to help some of their friends too, and the St. Jude Research Hospital in Memphis has been identified as a possible recipient of their generosity. And, since John is a "firm believer in tithing," their church's coffers are set to overflow soon.
A Minor Glitch Remains
While it looks like the Robinsons have all their ducks in a row and are not inclined to squander the blessings which have come their way, there has also appeared a minor irritant – a man named Jonathan Lee Riches has filed a lawsuit seeking half their win. Riches claims that he and Tiffany Robinson were pen pals and he sent her $20 from his prison account to buy the winning tickets.
Though the lawsuit he filed is legal, Jonathan Lee Riches has been identified as someone who has filed hundreds of lawsuits against famous celebrities and groups, including George Bush! With his team of lawyers and financial advisers, it seems like the lawsuit is something of a minor glitch and John Robinson and his family are set to live a life that for most of us remain a dream – at least until we hit the big jackpot like they did.