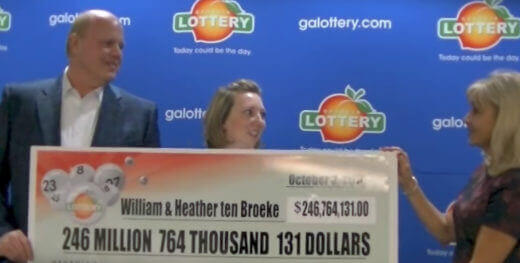 All of us play the lottery dreaming of one day bagging a big jackpot prize.  Truth be told, the jackpots sometimes grow to unbelievable amounts that despite the long odds, we play more lines than we usually do.  Bagging a Powerball jackpot, for example, means beating odds of 1 in 292,201,338.  Still someone will eventually win that prize and every lottery player wishes he or she is the one.
But what does it really take for one of us to win, to strike it rich with one very lucky ticket?  You'd be surprised how many different answers you get if you asked a few past winners.
But for big winner William ten Broeke of Brookhaven, it was just a simple question from his wife Heather.  "Aren't you going to get a ticket?"
But what is a story without a background?
The Ten Broekes of Brookhaven
William ten Broeke and his wife Heather have been married for five years; they married in 2011.  They are normal working class people – meaning both husband and wife work for a living.  William works as commercial credit officer and Heather is a cardiac device specialist. They have one child and two dogs.
It is not hard to picture that while they are not poor the couple are not wealthy either.  So they go about the routines most of us do – go grocery shopping, go to and from work, enjoy the comforts of their home after a hard day at work and perhaps have dinner out now and then.  The couple also apparently play the lottery – when William does not forget to buy tickets at least.
The Day Their Life Changed
That day they were grocery shopping at the Town Boulevard in Brookhaven, and were just about done.  That is when Heather popped the seemingly innocent question at William, "Aren't you going to get a ticket?"
Having been reminded, William dutifully purchased a US Powerball quick pick.  William says that without the gentle reminder from his wife he would not have bought the ticket.  After that, he kept the ticket, and promptly forgot about it.   They didn't know it then, but their life was about to change!
Play in Powerball and Mega Millions Syndicates Here
A few days after the draw, however, they happened to read about the jackpot winning ticket having been sold in their area.  That set the couple looking for and checking their Powerball entry.  The numbers 9-19-51-55 and 62 and the Powerball number of 14 in the Sept. 17 draw matched those printed on their ticket!  They were the jackpot winners!  Suddenly they were $246,764,131 million richer!
Were the lucky couple shocked?  Of course they were!  So shocked they checked the numbers multiple times.  But when the shock had worn off a bit they presented the winning ticket at the Georgia Lottery Headquarters.  There the lucky couple was given a choice of getting the full amount in 30 equal payments or as a single pre-tax cash payment of $165,613,511.  They chose the cash option.
Now What?

The ten Broekes have so far not indicated any plans of retiring, although they can now afford to do just that.  Perhaps they are still figuring out what they want to do – they are young and will have a lot of time to do that.
All they have at the moment are plans to invest some of the money, to help family, and to do some traveling.  They have also indicated a desire to donate to charity.
What cannot be denied is that one ticket has changed their lives for the better in a dramatic way.  And William will forever be grateful for the gentle reminder from his wife that made everything possible.
Perhaps it's time to add another tip for men who wish to win the lottery:  Listen to your wife!
P.S. Do you want to play Powerball in a syndicate? Read our LottoLishus Review Here