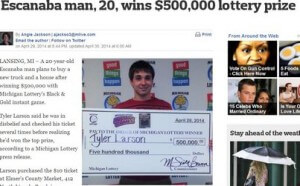 It is always good to hear of young people winning big jackpots in the lottery because they are young enough to enjoy it.  One such person is Tyler Larson, a 20-year old from Escanaba who has just won a $500,000 prize playing the Michigan Lottery's Black & Gold instant game.
After scratching his ticket Larson had to check it a few time more before finally believing he had won the top prize.  He had bought the winning ticket from the Elmer's County Market in North Lincoln Road in Escanaba.
Young as he is, Larson has so far made only two very sensible purchases:  a house and a truck.  And he plans to invest whatever remains of his winnings.
Read more in http://www.mlive.com/lottery/index.ssf/2014/04/escanaba_man_20_wins_500000_lo.html