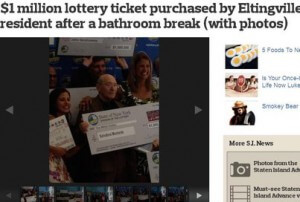 Retired iron worker Salvatore Montante of Eltingville can thank his bladder for a substantial windfall.  On a trip home after he visited family, Montante just had to stop by the Bay & Bath Market on Bay Parkway on Brooklyn to find a restroom.  Before returning to his car however, he decided to buy three lottery tickets, two of which were $5 Ruby 2's.  It was only when he was already h0me and rested when he scratched the tickets and discovered he was a new millionaire.
When Montante told his children of his good fortune, but they found it hard to believe him.  After collecting the prize, Montante already knows his first priority is a visit to his land of birth in Sicily, which he has not visited since 1981.  Then there are also bills to pay, and the money will make retirement more comfortable.
Here's hoping the readers of this article don't find too many excuses to go to the bathroom in the hopes of winning a million dollars.
Read more in http://www.silive.com/news/index.ssf/2014/05/a_trip_to_the_restroom_creates.html