A couple from Winnipeg started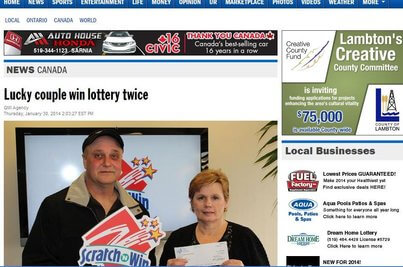 the new year by winning the lottery not just once but twice.  Patty Leganchuk and partner Michael Homeniuk first won $10,000 through a scratcher ticket in early January this year.  Their second win came just a week later on January 09, via a $5 Set For Life instant ticket.  This time the jackpot was worth a million dollars.
After having Patty scratch his ticket for luck and he won $10,000 the first time, Patty asked to scratch the other ticket which gave them their second and much bigger jackpot.  Michael calls Patty his good luck charm.
The happy couple are still overwhelmed by their win and plan to pay off bills, buy a new tv and a new car from the proceeds.  They have also said they would help family.
Read more in http://www.theobserver.ca/2014/01/30/lucky-couple-win-lottery-twice