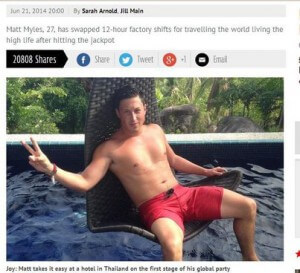 Electrical engineer Matt Myles has been living the high life for the last ten weeks after winning a million pound bounty from the EuroMillions Lottery.  In fact, he had resigned from his job and jetted to Thailand even before the winner's check had cleared.  That meant borrowing a bit of money from his father.
From having to work 12-hour night shifts, he is now enjoying life at luxury hotels, drinking expensive wine, enjoying the company of women, and driving luxury cars.  He is living the life most young men just dream of, all because of a lottery win he never really expected.
He had bought his lucky ticket on April 8, based on a sudden impulse.  When his numbers did not come up, he almost threw away the ticket; it was just fortunate that he noticed that the first three digits of the code matched those drawn and checked more thoroughly.
He has, however, set a cap on his expenses at £100,000.  He has also bought a couple of camper vans for his parents and will look after them.  He also has plans to invest part of his winnings.
This is one winner who knows how to enjoy life.  Now his next destination, with his Dad, is Brazil where they will see England compete for the Football World Cup.