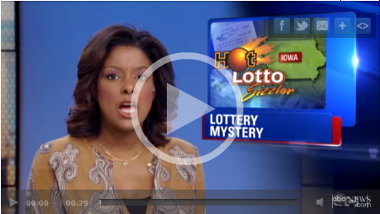 This is a very odd story that keep on resurfacing once in a while.
It relates back to a $16.5 prize on the Iowa Hot Lotto game, which was originally won on 29th December 2010.
But nobody came forward to claim the prize.
Lost ticket everyone thought – until a year later when an Attorney from New York appeared, just 2 hours before the claim deadline.
Things started to look suspicious. It turned out he was claiming on behalf of an investment trust based in Belize.
Questions were asked. But the Attorney refused to provide the answers Iowa wanted.
Iowa refused to pay unless the questions were answered, and the claim was eventually withdrawn.
Lottery director Terry Rich (great name!) said this is a world first. Tickets have been lost before, but nobody has ever walked away from a major prize.
The mystery continues.
Read more in http://www.kcrg.com/news/local/Lottery-Director-50-50-That-Hot-Lotto-Mystery-Will-Be-Solved-165470136.html