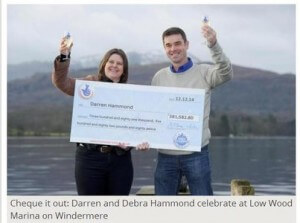 A hotelier from the Lake District won a significant jackpot without queuing up for a lottery ticket.   Darren Hammond  from Ambleside won using a lucky dip ticket he purchased online.  And the best thing about his win is the timing; just a week before Christmas.
He was checking his mail when he found one which congratulated him for winning what he initially thought was only £381.  It was only on his second look when he discovered that he had actually won £381,582.80 in lat Friday's draw of the Euro Millions Lottery.
Now Hammond,  his wife Debra and three children are busy planning what could be their most extravagant Christmas celebrations ever.
Read more in http://www.thewestmorlandgazette.co.uk/news/11670003.Happy_Christmas__Lake_District_dad_scoops_Euro_Millions_prize_as_family__scream__with_delight/