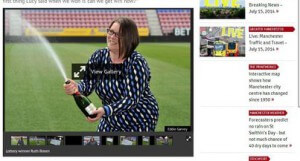 As a midwife Ruth Breen of Poolstock, Wigan is  used to delivering babies.  But after having won in the EuroMillions Millionaire Raffle draw, it is the Lottery's turn to deliver to her the sum of £1 million.
The single mother recounts that she and her 11 year old daughter never had any cash to spare, until now that is.  Now the elated midwife wants to purchase a new pair of shoes, get her home a wifi connection and maybe a landline, and pay for her daughter's secondary education at a private school.  She also wants to donate part of the money to the Amanda Penk Fund which helps fund the purchase of vital maternity equipment.
She plans to keep working though, and says delivering babies gives almost as much joy as winning the lottery.
Read more in http://www.manchestereveningnews.co.uk/news/greater-manchester-news/wigan-midwife-wins-euromillions-jackpot-7419214