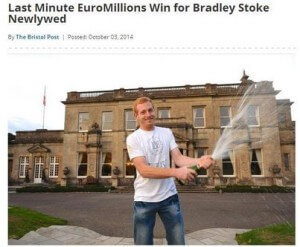 What causes people to almost miss the expiry deadlines on winning tickets?  For James Wilson, he would most likely say that it was because he only found and checked an old ticket he had kept in a wallet the day before it was set to expire.  But if you look deeper it must be because, like most people, he kept playing the lottery without ever expecting to win.
Wilson tried to contact Camelot right away but was unable to get through till the next morning.  He was relieved to beat the deadline on prize that paid £51,232.90.
Now Wilson, who has just recently married, is looking to buy a home of his own, and perhaps buy his wife a new car.  He is also considering reviving a career in competitive cycling that he had temporarily given up for lack of funds.
Read more in http://www.bristolpost.co.uk/Minute-EuroMillions-Win-Bradley-Stoke-Newlywed/story-23039927-detail/story.html