We just wrote a story about the Scottish lottery millionaires get-together. And now it has been revealed that the huge EuroMillions jackpot has been claimed by Colin and Chris Weir… from Ayrshire in Scotland.
Here are the Weir's claiming their cheque for £161,653,000, and looking pretty happy about it too: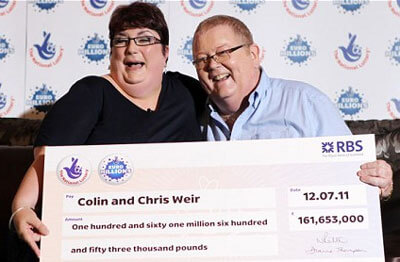 Winning £161 Million instantly puts the couple at 430th place in the UK Sunday Times Rich List. Not quite as rich as celebrity couple 'Posh and Becks' – the Beckhams. Although that does make them the 22nd wealthiest people in Scotland.
The Weir's currently live in a small seaside called Largs which is in Ayrshire. And don't particularly have plans to move. They love the town and the sea view house they live in. Although they may now buy a second home elsewhere. Perhaps somewhere to escape the media attention.
Chris Weir, 55,  is a retired psychiatric nurse whilst Colin, 64, is a retired TV cameraman.
They don't have any big extravagant plans for the money as yet. But Colin did add that they were considering setting up a charitable trust – as they recognised the big responsibility that came with winning so much money.
Colin does plan to keep his old reliable car though – while Chris has her eyes on a new Lexus.
Their grown up children will of course benefit, and it looks like son Jamie, 22, and daughter Carly, 24, won't be worrying about mortgage payments.
Holidays are on their immediate 'to do' list, and the couple will be heading off 1st class to see Thailand , China and Australia.
They both seem like particularly nice people, who plan to enjoy themselves and make the most of their win without being uncharacteristically flashy. As Chris said:
We are not afraid of this, it seems mammoth… on Wednesday morning the world was totally different, but we are not scared. It is going to be so much fun.
The couple did actually discover their big win on Tuesday night itself. Although they didn't watch the actual draw, as they their favourite TV show, CSI, was on at the same time on another channel.
Chris found herself repeatedly checking the numbers in disbelief at midnight on Tuesday, before going to tell Colin the incredible news.
They ended up buzzing with excitement all night, before calling the claims line as soon as it opened at 9am on Wednesday morning. And it will be some weeks yet following that call before their lives even begin to feel normal again.
The Weir's bought five lucky dip entries for the Tuesday EuroMillions, one of which matched all 5 numbers and the 2 Lucky Star numbers.
The winning numbers for Tuesday 12th July were 17, 19, 38, 42, 45 and Lucky Stars were 9 and 10.
EuroMillions has now started to rollover again, creating a new jackpot of €21 Million already. Try an online EuroMillions syndicate if you'd like a better chance of winning.