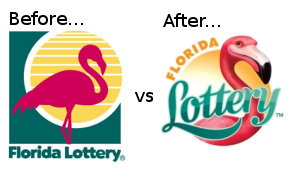 The Florida Lottery is celebrating 25 years this month.
And as part of the celebrations they have just unveiled a new logo.
The pink flamingo has had some work done – well he is getting on now – and is a distinctly happier, smilier flamingo as a result.
Florida says they have created over 1,200 millionaires from the lottery, and paid out a grand total in excess of $37.7 Billion of prize money.
Do you like the new logo? Or prefer the old familiar one..?