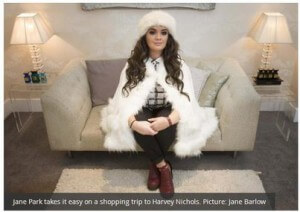 Money can't buy happiness, we often hear mostly poor people say.  But it seems like Jane Park, one of the youngest lottery winners in the UK already know that from first hand experience; what is more important is that she has managed to adjust to the pressures sudden fortune brings.
When the first lottery ticket she had ever bought won a £1m cash pot in 2013, she was caught off-guard.  She had no idea how much money it was and did not know how much to share.  Some envious people even criticized her looks.  After all that she learned to enjoy spending her wealth on things she wanted; scores of trainers, a 3-bedroom house, holidays and travel.
But the novelty of wealth soon faded and boredom set in.  She has since started working for a taxi office on night shift, which she found she enjoyed.  She is also set to move back in with her mum.  BBC Scotland is set to air a documentary of the highs and lows she experienced since her win.
Read more in http://www.edinburghnews.scotsman.com/life-style/teen-lottery-millionaire-moves-back-home-with-mum-1-3633491