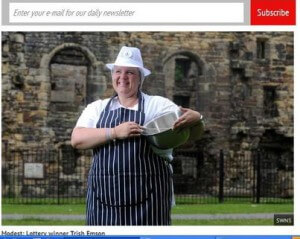 Most big lottery winners splash out on a new home and a new car.  Some even go on a spending binge that ends only when the money is gone.  But lottery winner Trish Emson is not like most winners; in fact her life remains the same as before except for her having a son and having bought a caravan.
When she won £1.7 million in October 2003, she was determined not to make drastic changes in her lifestyle.  She and her partner still live in the same home, and she still works as dinner lady – this time at her now 11-year old son's school.  She has also helped some of her family.
While some may say she's not enjoying her money, she is happy with her life – and that is the most important thing!
Read more in http://www.mirror.co.uk/news/uk-news/lottery-winner-working-dinner-lady-5857661