A Healthy New Way To Win The Lottery
There are so many articles dealing with 'systems' and 'lucky' numbers that are supposed to help increase the chances of winning lottery jackpots.   There are those who use birthdays and significant dates, those who randomly choose three odd and three even numbers and some who use 'lucky charms'.  There are even people who look to their horoscopes or dreams for 'lucky numbers'.  But the only methods sure to increase chances of winning are to increase the number of entries or join a lottery syndicate.
In some instances, people attribute their win to something they don't usually do, like visit a store in the middle of a storm, take a cigarette break or stop for gas – all of which lead them to purchase winning lottery tickets.  Daniel Shelton may have found a new way to a much healthier bank account.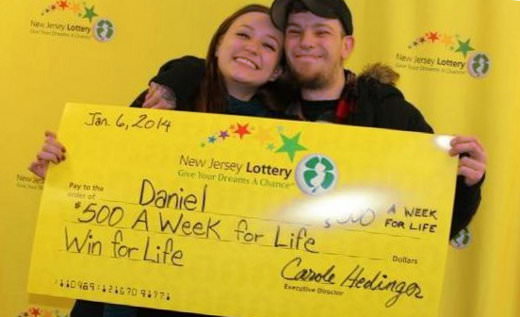 His Background
Daniel Shelton is a 31-year old resident of Bloomfield in New Jersey, and until recently a smoker.  But those anti-smoking ads must have hit home as he decided to stop smoking earlier in the month.  His decision to quit may have also been influenced by the new year, when many people make resolutions that some even manage to keep.
But quitting the nicotine habit leads to some unpleasant withdrawal symptoms, one of them being the need to occupy one's hands.  In an attempt to find something to keep his hands occupied, other than by holding a cigarette, Daniel began buying scratch-off instant lottery tickets.
Healthier Body And Much Healthier Pockets
It was Jan. 6 this year when Daniel bought '$500 a Week For Life' instant tickets at Quick Chek on Broad Street in Bloomfield.  It made him not only a lot healthier but also more financially secure.  One of the tickets he bought won him one of three top prizes.  He has found a healthy new way to win the lottery.
Would he have won had he still been smoking?  Of course, statistically, there is no proof that quitting his nicotine habit had anything to do with it, except that he only started buying instant tickets to occupy hands that would otherwise have been holding a cigarette.  There is no way to guarantee anybody will win after stopping the smoking habit.
But would I recommend smokers who play the lottery quit the nicotine habit?  I definitely would.  The health benefits are a sure win anyway.  And besides, money saved can be used to buy more lottery tickets, which does genuinely increase your winning chances.