Of Lottery Winners, Greed, And New Beginnings
Last month we followed the story of Andy Ashkar, a former convenience store worker, who was ultimately convicted of stealing a $5 million scratch-off lottery ticket from a customer. The other side of the story, the one about the real lottery winner Robert Miles,  had taken a back seat to focus on the more sensational story of an auto dealership manager's greed.
This is more about lottery winner Robert Miles, and the ray of light that shone on his life with Andy's conviction.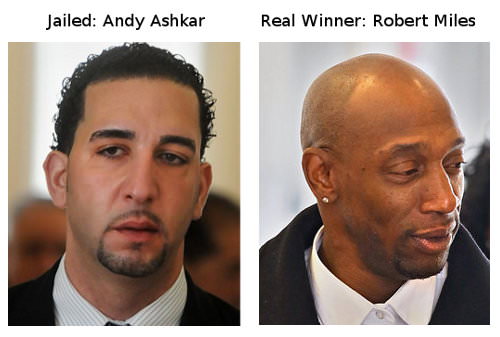 How It All Started
Seven years ago Andy Ashkar was still working at the Green Ale Market, a convenience store owned by his father Nayef, and Robert Miles, a building maintenance worker who was a customer at the Green Ale Market, was still a drug addict. Their paths crossed when Robert bought two or three tickets and proceeded to scratch them off just outside the store.
Ramon Rosario, one of Robert's co-workers, testified later that Robert started jumping up and down after his scratches uncovered "Five comma zero zero zero comma". Miles thought the ticket was worth five thousand dollars, but Rosario told him to finish scratching it off because of the comma at the end.
Miles went back to the store to verify the win with Andy. And here is where the story begins to have very different versions.
Robert's Story
Robert said that when he went back to the store, Andy took the ticket and told him it was worth only $5,000. Andy would not give the ticket back and paid Robert $4000, claimed $1000 as the store's portion, and did not even bother to issue a receipt.  Robert also claims that Andy then rushed to his car saying that he was taking the ticket to the lottery office in downtown Syracuse.
For Robert, that would have been the end of the story had the lottery not published the story of a $5 million jackpot claimed by the Ashkars six years late.
Andy's Version
Andy claimed a $5 million jackpot off a ticket he says he purchased at his father's store within one year of its sale, then waited another five years on March 01, 2012, a mere eleven days before the prize would have expired, to make his claim for the award along with his brother Nayel. He says he has decided to share the good fortune in order to repay the kindness his brother had shown over the years.
When asked why he chose to wait so long before claiming his prize, he said "I didn't want it to have a negative impact on my family." Andy also said he did not want the change in lifestyle to affect his then engagement.
The Lottery Becomes Suspicious
For Andy and Nayel Ashkar to claim their winnings after a long span of six years, is odd to say the least. It just does not happen that way. Winners do not take so long to claim their prize, and are usually jubilant when making their claims; the Ashkar brothers were expressionless.
It is part of the lottery's SOP to investigate and verify claims of more than a million dollars, especially when the winning ticket was bought from a store owned by a relative of the winner.
The Ashkar brothers' behavior only added to suspicions when they provided conflicting statements to lottery officials and so resented the interview that Nayel, at one point, threatened to rip up the ticket. The brothers also asked if they would be allowed to take a lesser amount to relieve them of the responsibility of attending a news conference, and both initially refused to sign papers related to claiming the prize.
What Brought Andy Ashkar Down
In an attempt to ferret out the truth, the lottery publicly announced the Ashkars' win, and it worked. At about this time lottery officials also contacted the authorities and soon the issue found itself in court.
Some of Robert Miles' co-workers saw the news articles on the delayed redemption of a prize won six years earlier and connected the dots. A few of them even testified at the trial that they know Robert won $5 million dollars at about that time.
Lottery officials also confirmed that Robert is the real winner, through proprietary procedures and safety measures they refuse to reveal to prevent  scammers finding a way around them.
The prosecution's case was so solid that there was no way Andy could have avoided conviction. Judge Joseph Fahey gave him the maximum allowed penalty and justified it saying, "You've exhibited some of the most rapacious greed I have seen in a long, long time."
How Things Are Now
Andy Ashkar has just been sentenced to 25 years to life in prison, far from the life he has been living of late while making in excess of $100,000 per year as business manager of Romano Toyota of East Syracuse.
Andy's brother Nayel Ashkar has been cleared of conspiracy charges, but their father Nayef is scheduled to be tried for conspiracy separately in September.
The lottery has suspended its outlet at the Green Ale Market, and is working on getting the $5 million prize awarded to Robert Miles.
Robert says he has forgiven Andy, and is hopeful he will get his money soon; quite a big turn-around from someone who thought nobody would believe him, a recovered addict.
Here's hoping Andy's story teaches people to avoid the pitfalls of greed, and that all these lead Robert to a new and better life without drug and gambling addictions – and of course free from financial worries at least for the next 14 years or so.