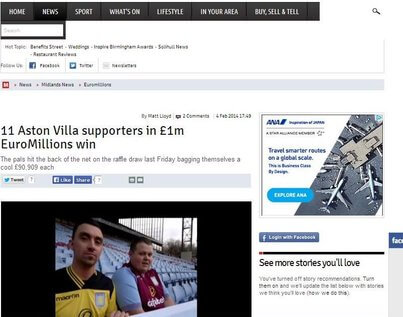 Eleven close friends who happen to be avid supporters of Aston Villa have scored a million pound lottery win.  The group of 21 to 25 year old childhood friends call their syndicate the 'Bigger Than Normal Peeps' (BTNP).
The winners had just started playing the lottery as a syndicate in September, betting eleven lines per draw.  And now their small investment has been handsomely rewarded, with each member receiving £90,909.
Engineer and EuroMillions syndicate leader Simon Ashcroft discovered their win and was instantly ecstatic.  But since he has a reputation as a joker, he had a hard time convincing the rest of the group that they had really won.
Simon says their name was just an 'in joke' within their group.  After their big win, perhaps they can consider renaming the group 'Richer Than Normal Peeps' (RTNP).
Read more in http://www.birminghammail.co.uk/news/midlands-news/11-aston-villa-supporters-1m-6672157