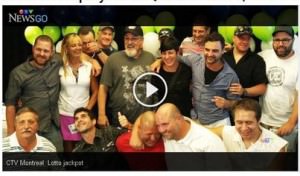 Twenty employees of a Quebec store have hit the big time.  The syndicate won a huge $55 million Lotto Max jackpot.   Each member will be receiving a $2.75 million share of the bounty.
But the membership of this unique syndicate changes with each draw because only the first 20 people who write their names in the list share in the prize.  Some of the winners have said they intend to retire early, while others prefer to continue working.
The gas station which sold the winning ticket received a $550,000 bonus.
Read more in http://www.ctvnews.ca/canada/20-rona-employees-in-quebec-share-55-million-jackpot-1.2478333