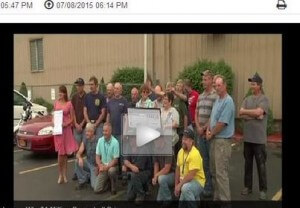 A group of 29 Alstom employees have a lot to smile about these days.  The workers, who have been playing together for sometime have just posted a million dollar win on the US Powerball!
Each member of the syndicate will receive a little less than $23,000 after the shareout.  Many are excited with the prospects of helping family, paying off bills & mortgages, getting home renovations done, and going on vacations – it is different for each one.
Having tasted victory, the US syndicate group is encouraging everyone to play the lottery.  If it can happen to them, who knows whose turn it will be next?
Read more in http://www.mytwintiers.com/story/d/story/29-alstom-employees-win-1-million-powerball-prize/24464/bC-anEiCykGE8Y8NIa1nwQ