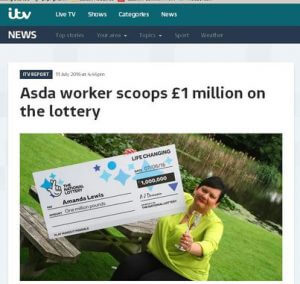 Asda worker Amanda Lewis got lucky in a previous draw and decided to use part of her £2.60 in credit to purchase a lucky dip.  Having done the same countless times, she promptly forgot about it; but this time the results were very different!
Next day she checked the ticket and found no matches.  Good thing she  asked a lady at the lottery kiosk to double check.  She became nervous when the lady started smiling broadly – she had won a million pound in the millionaire raffle draw.
Her plans include buying cars for two children, and going on a vacation trip.  Then she'll decide what to  do with the rest of the money with her husband.
Read more in http://www.itv.com/news/central/2016-07-11/asda-worker-scoops-1-million-on-the-lottery/