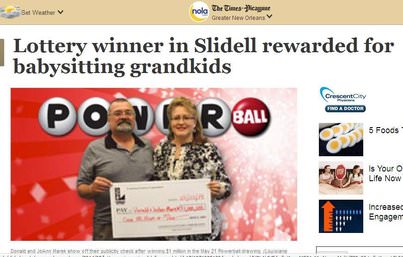 A Powerball ticket sold at the Racetrac convenience store #380 on Gause Boulevard for the May 21 drawing matched 5 numbers drawn but not the powerball.  Donald Marek's quick pick purchase won for him a cool million dollars.  The interesting thing is that Marek is from Wisconsin and had only traveled to Louisiana with his wife JoAnn to babysit their grandchildren.
He came to Baron Rouge to collect after tax winnings of around $700,000, which he and his wife plan to use for their retirement.  The Racetrac store where they bought the winning ticket from will receive a bonus equal to 1% of the prize ($10,000)
Meanwhile, Marek may just have set the record for the largest remuneration ever for babysitting.
Read more in http://www.nola.com/news/index.ssf/2014/05/lottery_winner_in_slidell_rewa.html