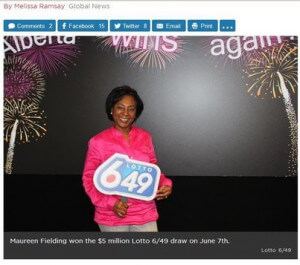 People who play the lottery usually dream of the things they would do if they hit a big jackpot.  Maureen Fielding of Calgary had once promised her daughter a new laptop, a new car, and a dog should she be blessed with a big jackpot.  When she bought a 6/49 ticket at the Superstore on Country Hills Blvd on July 7, she had no idea it would change her life.
When Fielding used the self-checker at the same store the next day, she discovered she had won $5 million.  Her daughter immediately remembered her promises, so her first purchase may be a dog.
Fielding is going to use part of the money to pay off bills and maybe buy a new home.
Read more in http://globalnews.ca/news/1412696/calgary-lottery-winner-gets-5-million/