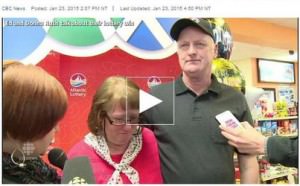 All Ed Ruth wanted when he went to the Brent's Convenience  store in Summerside was a six-pack since he expected to spend  the night alone – his wife having gone out.  He decided to get his Lottomax ticket scanned since he was already at the store.
When he came up a big winner, he asked his wife to come home immediately.  The startled wife, Donna Ruth, thought there was something wrong with the kids.  But everything became right when she learned they have won a million dollars.
The happy couple has decided to retire – both of them at once.  They plan to do some traveling, have a good time and treat family.
Read more in http://www.cbc.ca/news/canada/newfoundland-labrador/lotto-max-winners-donna-and-ed-ruth-1m-richer-1.2929549