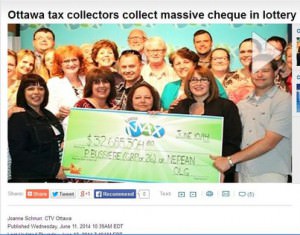 Another lottery syndicate has posted a big win in Canada.  A group of 26 current and former tax collectors, who have been playing the lottery together for the last six years, have managed to snag a Lotto Max jackpot worth $32 million.
Syndicate leader Philippe Brussiere collects and purchases the tickets and it is member Francine Moore who is tasked with checking the results.  When informed that they had won, Brussiere immediately sped to the office where he had kept the winning ticket in a mug.
Fourteen members of the group will receive $1.6 million dollars each, while twelve members will each receive $800,000.   Members of the group say they will use their share to have a vacation and pay off bills.  One had bought a new truck.  None of them plan to resign from their jobs.
In Canada, lottery winnings are exempt from taxes.
Read more in http://ottawa.ctvnews.ca/ottawa-tax-collectors-collect-massive-cheque-in-lottery-1.1863299