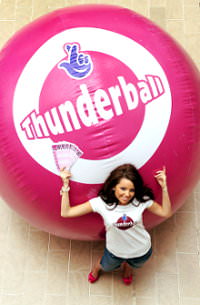 Sixteen members of a lottery syndicate composed of staff of the Co-op in Penzance had 500,000 reasons to celebrate.  One of their tickets managed to snag  £500,000 in the Thunderball draw last Sept. 21.
For a while celebrations of their win, which included popping champagne corks and numerous camera flashes, put the centre of Penzance to a standstill.  After all, sixteen of them were suddenly £31,250 richer.
Clients of the store, which had a reputation for being one of the friendliest staff, are happy for the winners.  Many of the winners already have plans for the money.  Wendy Uren, who has been part of the syndicate for 7 years, wants to finish home renovations.  Daniel Symons, considers the win a nice moving away present ahead of his promotion and transfer to another store.
None of them are quitting their jobs.  And syndicate organizer Colin Coombs will continue playing the lottery; in fact, the syndicate just accepted eight more members.
If you want to play Thunderball there is one online group that does offer this game – read more about them in our You Play We Play review. Thunderball is a game often overlooked by syndicates, but with odds of 1-in-8 million for the jackpot and a ticket price that remains at £1, it's not a bad choice.
Read more in http://www.thisiscornwall.co.uk/Penzance-op-syndicate-celebrates-500k-lotto-win/story-19902929-detail/story.html#axzz2hU3UIS1s