When Jim Hartlin went into a Holy Smokes retailer for a "Team Canada" hat and a lottery ticket, he had no idea his life would change.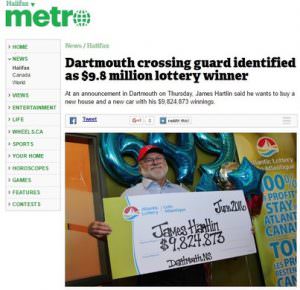 But when his numbers matched all six drawn in the 6/49 Lotto, he was overwhelmed by the size of his windfall.
Hartlin was later presented with a check for $9,824,873.50 at the Atlantic Lottery office in Burnside.  He is now set on retiring from his job as a crossing guard.  He is also looking forward to a new house and a new car to match.
The Holy Smokes store earned 1% of the prize which amounts to $98,000.
Read more in http://www.metronews.ca/news/halifax/2016/06/02/dartmouth-crossing-guard-identified-as-lottery-winner.html