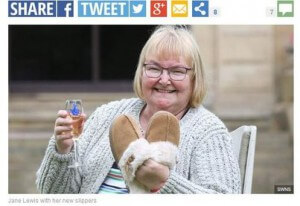 For many of us winning the lottery means being able to buy what we need.  In the case of pensioner Jane Lewis who has just won a £4.3million jackpot, what she needed was a new pair of slippers – and that is exactly what she 'splurged' on.
Lewis had been playing the same number since the lottery began, but decided to purchase a lucky dip for the June 17th draw.  It was her first lucky dip ticket which gave her the huge win.
Aside from the slippers, she also wants to buy a new home, a holiday home in Merseyside, and to to fulfill her dream of visiting Graceland.
Read more in http://www.express.co.uk/news/uk/586928/national-lottery-slippers-millionaire-grandmother-jane-lewis