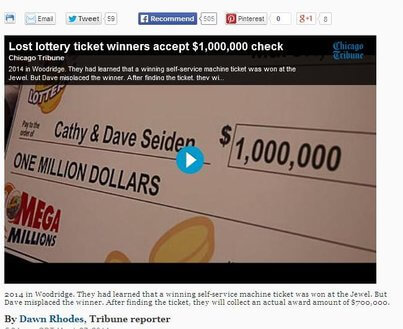 You can say they won, lost, and then won again in the end.  Cathy Seiden from Downers Grove had bought a Mega Millions ticket at Jewel-Osco in Woodbridge, like she normally does every two weeks.  And then forgot about it.
But when colleagues told them a ticket sold at the same store won a million dollar prize, they decided to look at their ticket.  Only thing was, they had misplaced it, and they had to turn their house inside out in order to find it.
Their efforts were rewarded when they found the ticket and realized they had matched 5 of 6 numbers and won a million dollars.  They collected a $700,000 lump-sum payment which they plan to save for their children's education.
Read more in http://www.chicagotribune.com/news/local/suburbs/downers_grove_darien_westmont_woodridge/ct-lottery-lost-ticket-wins-downers-grove-tl-0328-20140327,0,1952621.story