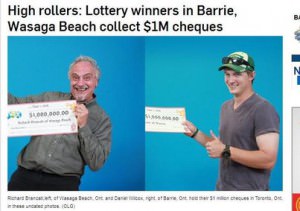 Four men are in celebration mode after winning $1 million in the Lotto Max Maxmillion draw.
One of the lucky winners is Daniel Wilcox of Barrie who scored the winning ticket from a Becker's store in Scarborough.  The 26-year old was initially shocked by his big win, but has since recovered to celebrate with ice cream.  His other plans include buying a motorcycle and a house.
Richard Brancati is the winner from Wasaga Beach.  He was only enticed to buy a ticket after hearing people talking about Lotto Max.  With his prize he plans to open a restaurant, buy a new car, and help his children with college tuition.
The two other million dollar winners are from Orillia and Owen Sound.
Read more in http://barrie.ctvnews.ca/high-rollers-lottery-winners-in-barrie-wasaga-beach-collect-1m-cheques-1.2404476