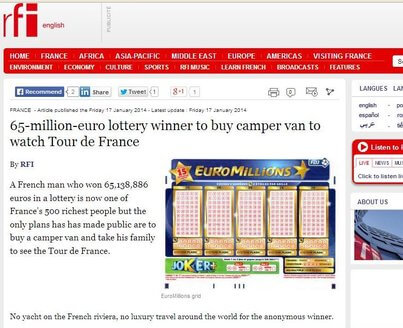 A Frenchman earning a little below the minimum wage in salary purchased lottery tickets with the simple wish of taking a holiday with his family and buying a camping car to watch the Tour de France.  Now the man has joined the list of 500 richest Frenchmen after bagging 65,138,886 in a lottery.
Even when he has more money than he has seen all his life, the man only want to build a home and buy a farmhouse in Provence.  How he wants to use the rest of his money is something he wants to think about later.  In the immediate future, his dream vacation and following the Tour de France are within his reach.
The other winner of the Euromillions jackpot which reached more than 130 million euros is a Spaniard.
Read more in http://www.english.rfi.fr/france/20140117-65-million-euro-lottery-winner-buy-camper-van-watch-tour-de-france