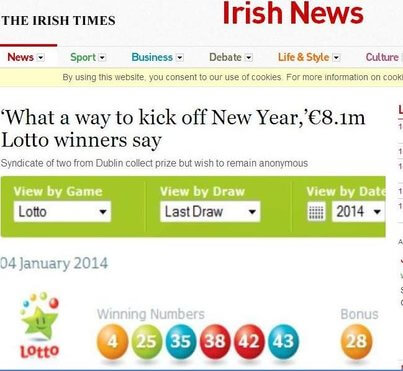 A pair of Irishmen are celebrating the new year in style after winning an €8.1m jackpot from the National Lottery.  The duo had won Saturday's draw through a €4 quick pick ticket they had bought at Wicklow Shopping Centre in Wicklow town the week before.
The winners had opted to remain annonymous and have said they have yet to decide what to do with their winnings.  The huge jackpot had accumulated since the end of November 2013 and was further boosted by €1 million the National Lottery have added for the Christmas Season.
The numbers on their winning ticket were 4, 25, 35, 38, 42 and 43, with a bonus number of 28.
Read more in http://www.irishtimes.com/news/ireland/irish-news/what-a-way-to-kick-off-new-year-8-1m-lotto-winners-say-1.1647048