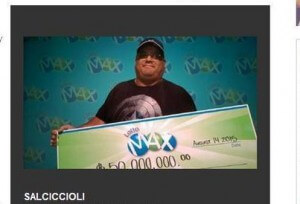 Like many other lottery players, Dino Salciccioli kept buying tickets for years hoping for the big win that he never expected would ever come.  But when it finally did, it took him five months to get over the shock and claim his prize.
The quick pick Lotto Max ticket Dino bought from Grimsby's Daisy Mart on Main Street on March 20 turned out to be a $50 million winner.  He learned of the win the day after the draw but sought help from financial advisers before turning his ticket in.
Now he calls himself semi-retired because at just 44, he can't see himself doing nothing.  He is glad to have no more financial worries but has no immediate plans to move or travel anywhere yet.
Read more in http://www.thespec.com/news-story/5798202-beamsville-man-collects-50-million-lottery-prize/