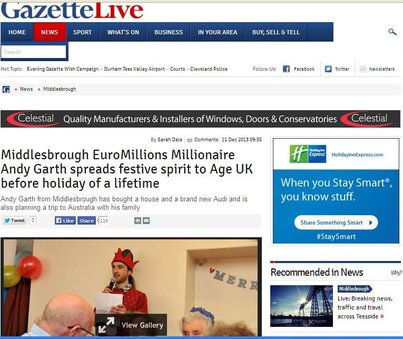 When Andy Garth won £1 million from the Euromillions Millionaires Raffle draw on Christmas day last year, he never imagined that the Christmas cheer would still be going strong a year later.
It was the day after Christmas last year when Andy checked his ticket and realized he was a big winner.  A year later he is the proud owner of a new house in Stockton that he wants to enlarge, and a brand new Audi automobile.  He is also planning to embark on a property leasing business.  But what is more remarkable about Andy is his intention to keep giving and even spreading the festive spirit around.
First there is the family trip to Australia he has planned for the early part of next year to fulfill his mum's wish.  Not content with that, he and fellow winners Michael and Norma Eggleston who won £2.7m in 2007, and Ian and Kim McCarthy, who won £1m on Christmas Day 2012 have given donations to the Age UK in Middlesborough, delighting its residents and regulars.  One win sure has spread a lot of cheer!
Read more in http://www.gazettelive.co.uk/news/euromillions-millionaire-andy-garth-spreads-6393421