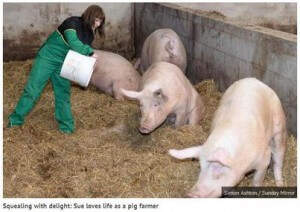 In 2010 Sue Herdman was a hairdresser who was always perfectly groomed.  Then she decided to follow a Tarot reader's advice to buy a lottery ticket and promptly won £1.2 million.
Before then, she thought that if she ever won the lottery, she would live a life of luxury the rest of her life.  But now she spends long hours raising pigs at a farm and buys her clothes from thrift shops; no sense dressing up nicely when you work in a pig farm.  She credits the transition to hog raising to her now partner whose father owned a pig farm.  Though she abhorred the smell of the porkers at first, she became fascinated after seeing a sow give birth.
Though far from living a life of luxury, she is doing something she has learned to love; and that is the ultimate formula for happiness.
Read more in http://www.mirror.co.uk/news/real-life-stories/meet-lottery-winning-hairdresser-who-5081319