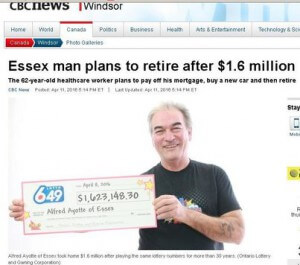 An Essex man was finally rewarded after playing the same set of numbers for more than 30 years.  Alfred Ayotte was one of eight winners of a $13 million Lotto 6/49 jackpot.
The happy man shared that he uses the same set of numbers regardless of the lotto game he plays.  His share of the jackpot comes to $1.6 million.  He learned about his win when he checked his tickets during lunch break.  He just called his boss afterward to say he was not coming back to work.
Ayotte says he will pay off his mortgage, buy a new car and then retire on his winnings.
Read more in http://www.cbc.ca/news/canada/windsor/essex-lottery-millions-retire-1.3530872