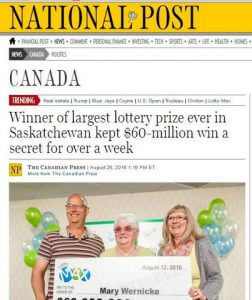 A woman from Regina used the last $5 on her purse to purchase Lotto Max tickets.  Then she promptly forgot about the ticket till five days after the draw.
But when Mary Wernicke checked the results, she found out she had won $60 million.  She retained enough of her composure to keep the win secret for a week more.
Wernicke says her priority is helping her entire family; with $60 million and children, grandchildren and great-grandchildren numbering just 30 in all, she can do that handily!
Read more in http://news.nationalpost.com/news/canada/winner-of-largest-lottery-prize-ever-in-saskatchewan-kept-60-million-win-a-secret-for-over-a-week