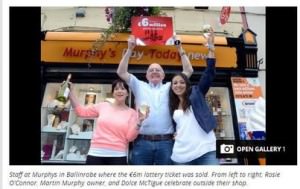 Gerard Murphy has just won a €6,384,673 jackpot from the lottery off a number combination he has been using since the lottery began.  His long and patient wait has been rewarded.
It is a double celebration for his family because he bought his winning ticket from Murphy's newsagents, a store owned by his brother-in-law Martin.  The store has sold its share of lottery winners in the past including one for €150,000 in 1989 and another for €350,000 this past May.
Gerard Murphy is expected to claim his prize shortly.
Read more in http://www.independent.ie/irish-news/news/celebrations-as-shopkeeper-sells-brotherinlaw-6m-lottery-ticket-31422904.html