Retirement was not looking promising when they met their financial advisor last week.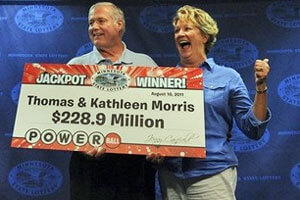 But now the latest Minnesota Powerball winners, Thomas and Kathleen Morris, have a new appointment with their advisor. To discuss whether they should take the annuity or lump sum option for their $228.9 Million Powerball jackpot.
Thomas has already decided he will be handing in his notice first thing Monday morning. A far cry from their retirement prospects following discussion with their advisor last week. Kathleen told reporters:
He is now retired as of 14 or 15 hours ago!
The couple have been married 38 years, and live in Burnsville. They just became grandparents at the beginning of August.
Kathleen was first to hear the big Powerball rollover had been won, and that it was someone in their Country too! Too bad she said to Thomas that they hadn't bought a ticket.
Thomas bought his tickets at the Lakeville SuperAmerica convenience store. He bought 5 quick pick tickets rather than his usual 3, as he had a $5 note and no change. A small decision that made a very big difference – it was his 4th random entry that hit the jackpot.
The couple haven't decided how they will spend the money yet, except to secure their retirement. And some money will go to Thomas' 86 year old mother. They get 60 days to decide if they want the payment as a lump sum or not, which after taxes would amount to $84 Million.
Neighbours say the win could not have gone to a nicer and more deserving family.
The winning Powerball numbers for Wednesday 10th August were 11, 18, 36, 41, 46 with a Powerball number of 38.
Would you like a better chance of winning Powerball? Join a Powerball and Mega Millions syndicate and instantly get 20 times the chance of winning.