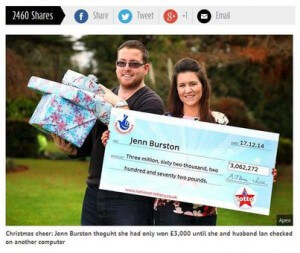 It never ceases to amaze how people play the lottery in the hopes of winning fabulous riches, but never really believe they would be the one to win large sums.  A mum named Jenn Burston proves it once again.
She had decided to play Lucky Dip online because of a big rollover jackpot.  As she checked the results on her phone, it dawned on her that she may have matched five numbers and the bonus ball and won just £3,000.  When she and her husband checked on a larger screen, they discovered it was really more than £3 million.  An email from the lottery confirmed it soon afterward.
Lotto rules allow  the top prize to rollover only four times.  So when no one matched all six numbers in the Dec. 17 draw, the prize was shared by five winners in the next level (five plus bonus), and each winner received £3, 062, 270.
They have no definite plans for the money yet beyond looking for a larger home and helping relatives, but they are sure it will come to them in time.