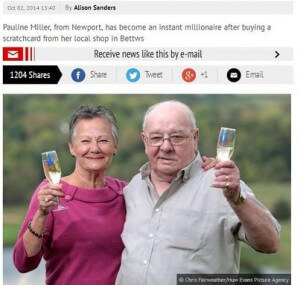 For lottery player Pauline Miller, Lady Luck came calling by way of a National Lottery scratchcard ticket.  The lucky grandmother bought her winning Cash Spectacular Scratchcard from Martins in Bettws Shopping Center.
When the shopkeeper put her card through the machine, Miller was pleasantly surprised to discover she had won the top prize – she found it hard to believe though because the biggest she had ever won previously was £10.  Even her husband John was skeptical at first.
Now she wants to buy the house they have been renting for a long time and to have it improved and fitted with new furniture, after which they would like to invite friends over for a celebrations.  There are also some travel plans, but the best is never feeling they have to scrimp on anything just to get by.
Read more in http://www.walesonline.co.uk/news/wales-news/lucky-grandmother-wins-1m-top-7871248